Promo Code Reliability Study: Which is the Best Coupon Site?
Have you ever searched online for a promo code? We all love the feeling of finding a working discount code that saves you money during checkout.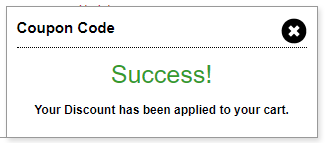 But all too often, our quest for a working promo code looks more like this: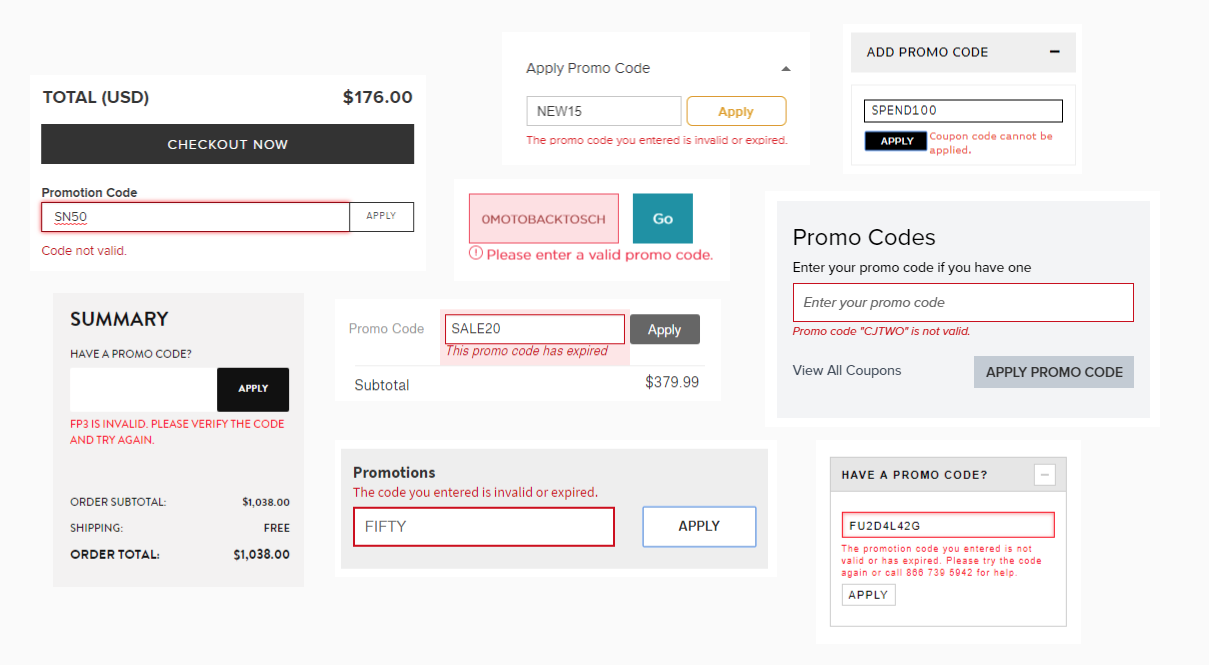 Everyone loves promo codes, but why does searching for them online have to be such a frustrating and time-consuming experience?
As the creators of Dealspotr, we spend all of our time trying to solve the problem of expired and invalid coupon codes. Our mission is pretty simple: make sure we have all the available working promo codes for every online store in the US, and show zero (or close to zero) promo codes that won't work.
We have four strategies for achieving this.
Better promo codes through: Crowdsourcing + Community
On Dealspotr, we offer coupon codes for around 100,000 stores. Each store's coupons must be tested by hand by a live human to ensure they work. Some stores offer dozens or even hundreds of new coupon codes every day. So you can imagine that's a lot of testing that needs to happen.
So we took inspiration from Wikipedia. Wikipedia also has a lot of pages to update. Like millions. There would be no way for an in-house staff to manage all of that. So Wikipedia relies on crowdsourcing, opening its platform to members who can sign up as editors and help maintain their encyclopedia.
Dealspotr works the same way. Anyone can become a deal editor on Dealspotr and help curate the deals on our platform. We even give points and gift cards to members who make helpful edits. As an editor, you can add, modify, validate (aka verify), or remove any coupon on our site: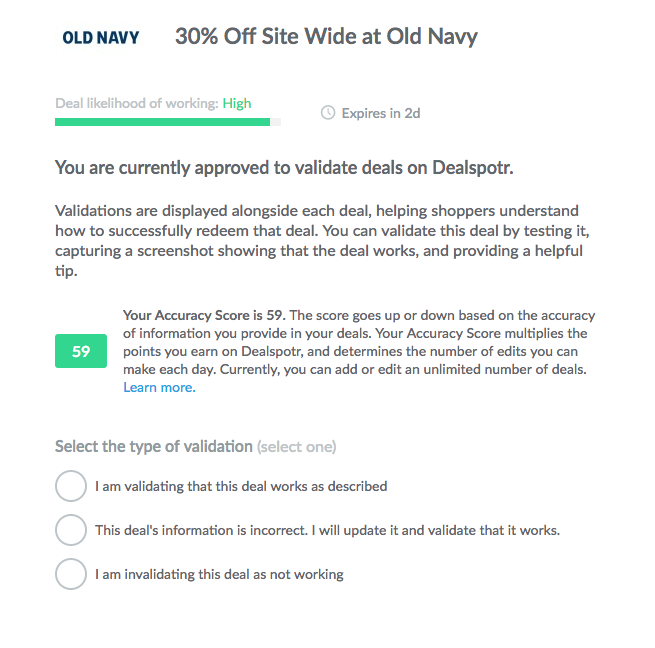 Note that you need to add a helpful tip to shoppers when you make edits, plus you are encouraged to upload a screenshot that demonstrates that your deal really works as you've described it.
When you add deals or make edits, you earn points:

As you accrue points, you can redeem them for gift cards at Amazon.com:

You also need to keep your reputation score high.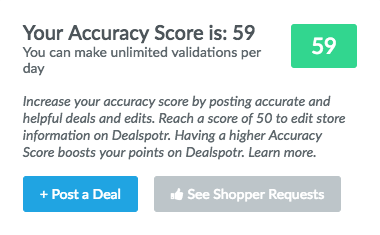 If you post accurate information that's helpful to shoppers, your Accuracy Score goes up, and you earn more for your editing activity on Dealspotr. If you post incorrect information that gets flagged by other members, your score will go down and you'll earn fewer points on Dealspotr.
Better promo codes through: Screenshots to demonstrate every deal works
By requiring or encouraging our community members to include screenshots along with every deal, we make it easier for shoppers to know whether each deal really works.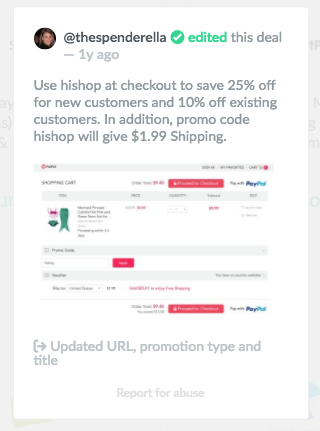 Better promo codes through: Advanced types of promo codes
Sometimes a store simply has no regular promo codes active on a given day. We don't let that stop us! We enable our community to add completely different types of promo codes, that other coupon sites don't have: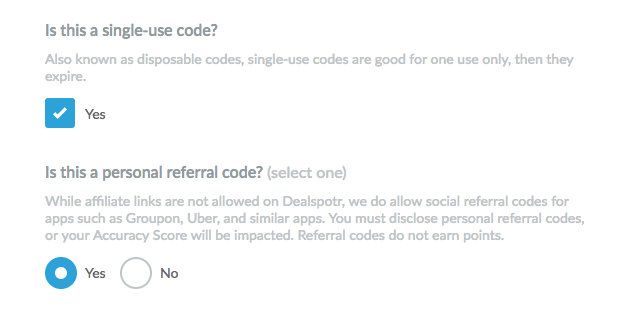 Single-use codes are disposable promo codes that only work once.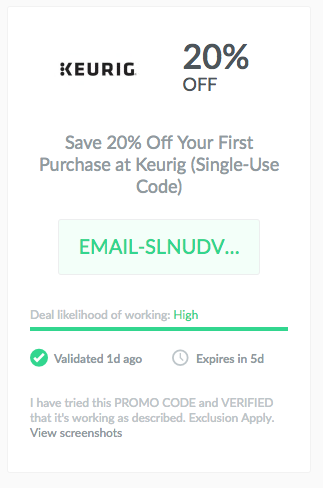 Why would we post disposable codes that expire quickly on Dealspotr? Because our large community can post a lot of them, and we utilize a proprietary algorithm to ascertain when each of these codes has likely already been used, we can provide a constant feed of single-use codes that are likely to work. For some very popular stores, like Dick's Sporting Goods, Kate Spade and Adidas, oftentimes single-use codes are the only type of promo code available.
Personal referral codes are codes given to you by various brands to give to friends and family.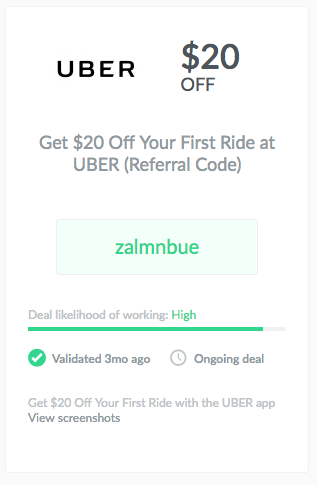 You'll often get a credit when people use your code. We allow our community members to upload your own personal referral codes to Dealspotr. This enables our community members to earn referral credits, while helping our shoppers by including even more types of discounts codes as options when you need to save.
Third party codes are totally unique to Dealspotr. Say you're shopping for a Keurig coffee maker, but Keurig is not running any discounts on their own website. However, Kohl's sells Keurig coffee makers and is currently running a 15% off site-wide promotion that can be used on Keurig items. We call these third-party codes. Our technology platform tracks these relationships and will show you the Kohl's code on our Keurig page. This way, you can always find the absolute best deal for any brand, simply by visiting their page on Dealspotr.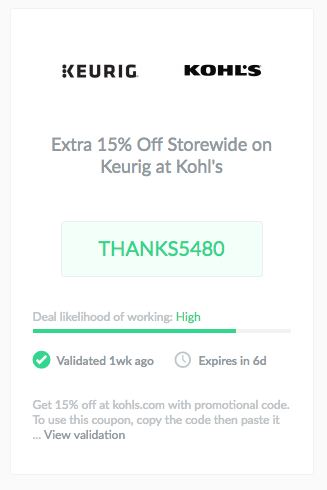 So while most other coupon sites stop after looking for the usual promo codes offered by stores, we go a lot further to research creative ways for you to save, beyond the normal codes you'll find on other sites.
So which coupon site has the most working coupon codes?
We conducted a large-scale test for coupon accuracy at 20 popular coupon sites. Our test involved 10 full-time staffers manually testing almost 20,000 promo codes over a 30-day period. Each code was tested in the merchant's shopping cart, following the directions provided by the coupon site as closely as possible to see if it provided a working discount.
How did we select the brands for the test? We selected 105 e-commerce brands based on the following criteria. First, they had to be active in offering promo codes. Second, they had to be among the top 300 most popular branded search terms for coupon codes, per data from SEMRush.com. By selecting only popular brands, we eliminated bias from choosing more niche stores that one site might be more likely to cover.
While their inclusion would have favored Dealspotr, we excluded third-party codes in our test, as these do not provide a discount on the primary store's site. We did include single-use codes, since these do unlock a discount at the primary store's site.
Total number of working coupon codes
Of 19,805 coupon codes tested across 20 coupon websites, only 35% provided a working discount. We ignored all coupons that were marked as expired or unpopular. So of all coupon codes which were displayed as working, verified, and current, across all sites in our test only 35% of these worked.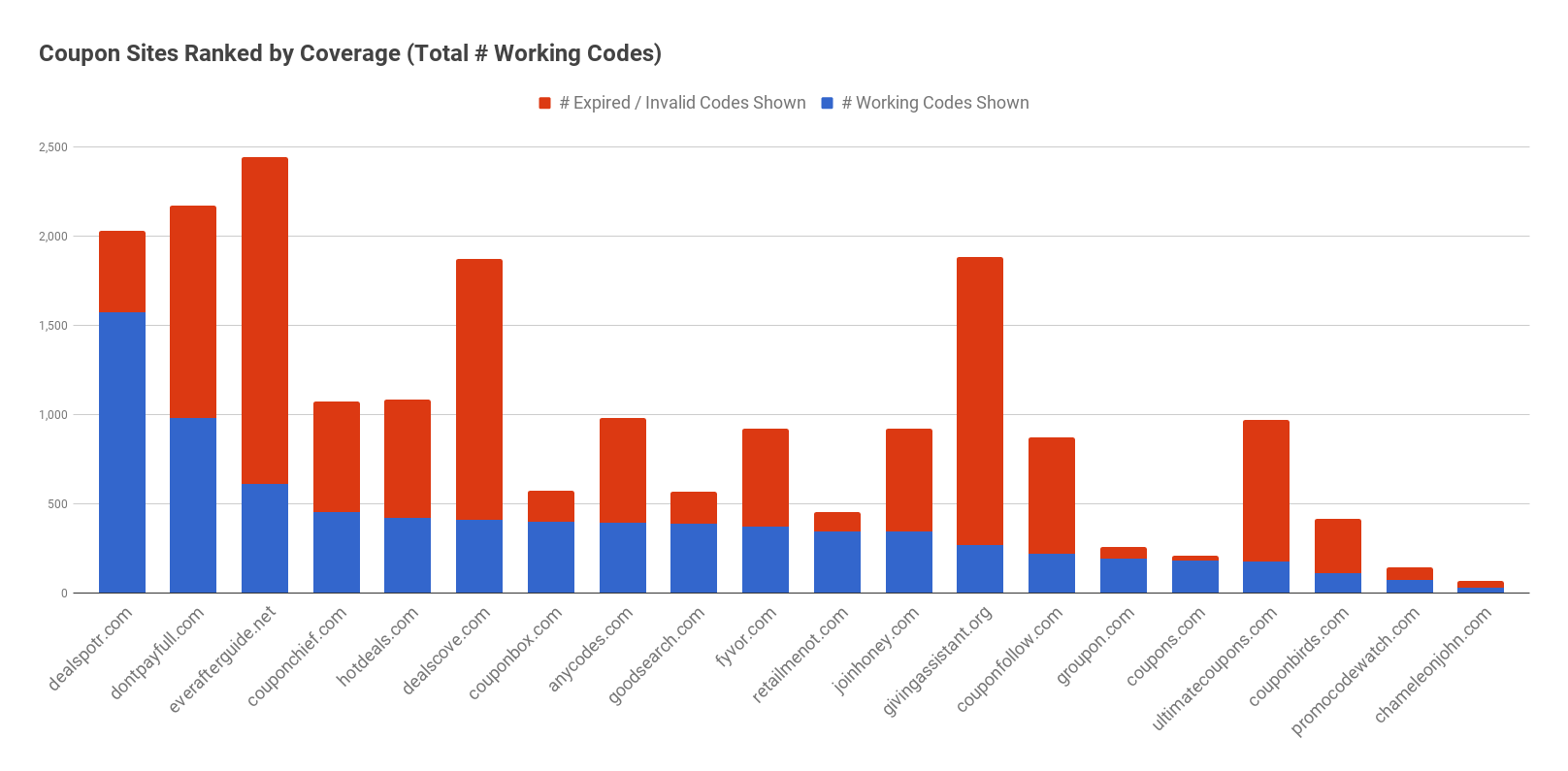 Of the 20 coupon sites we tested, Dealspotr had the most working promo codes, with 1,571 working promo codes.
The industry leader RetailMeNot came in 12th place with 452 working codes.
Dealspotr showed 459% more working codes than industry leader RetailMeNot.
Coupon accuracy
We also analyzed the success rate of each coupon site, measured in terms of the percentage of promo codes displayed which worked. This metric shows which sites post the fewest invalid or expired codes and are therefore more efficient for users. In theory, sites that post massive numbers of codes without testing them may have a high number of working codes, but at the expense of users' time spent sifting through bad codes. Ideally, a coupon site should display a high number of working promo codes with a high degree of accuracy.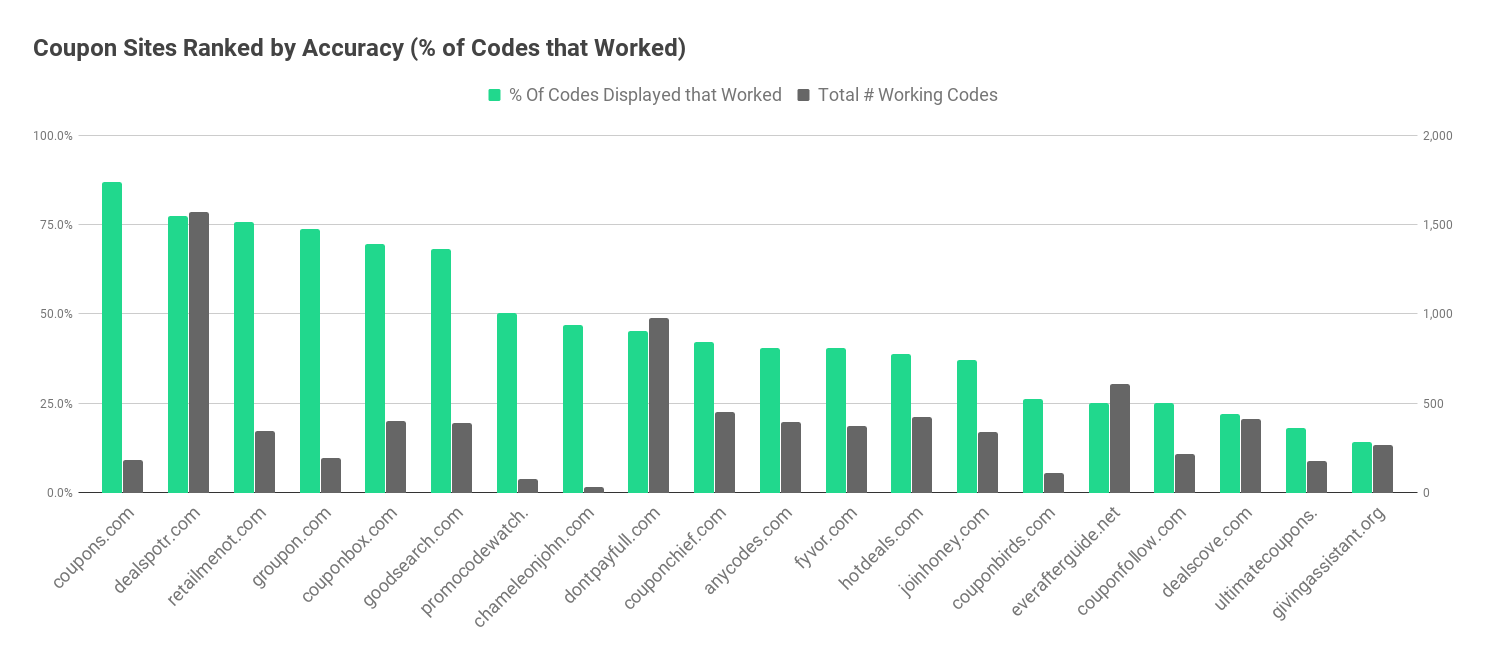 One average, coupon sites included in the study scored 35.6% on accuracy. This means that on average, a user will encounter 64% expired or invalid codes when searching for codes online.
On accuracy, Coupons.com placed first, with an 87% success rate. However, Coupons.com posts very few coupons overall, they came in 16th place out of 20 in terms of working codes displayed.
Dealspotr came in second place in accuracy with a 78% accuracy rating. Notably, Dealspotr ranks first in number of working codes shown and second in accuracy.
RetailMeNot came in third place in terms of accuracy, with a score of 76%. RetailMeNot also underperformed the group in terms of number of working codes shown.
From this metric, you can see that two of the top performing sites in terms of number of working codes shown, DontPayFull and EverAfterGuide, performed poorly in terms of accuracy. These sites post a high volume of codes, with more invalid codes shown, meaning shoppers will have to sort through more non-working codes to find one that works. EverAfterGuide scored only 25% in accuracy, meaning a shopper would need to try out 4 codes before finding 1 working code.
Breadth of store coverage
For any given store, what are the chances that each site would have at least one working promo code? We measured this statistic to show the % of stores in our test for which each coupon site displayed one or more working coupon codes.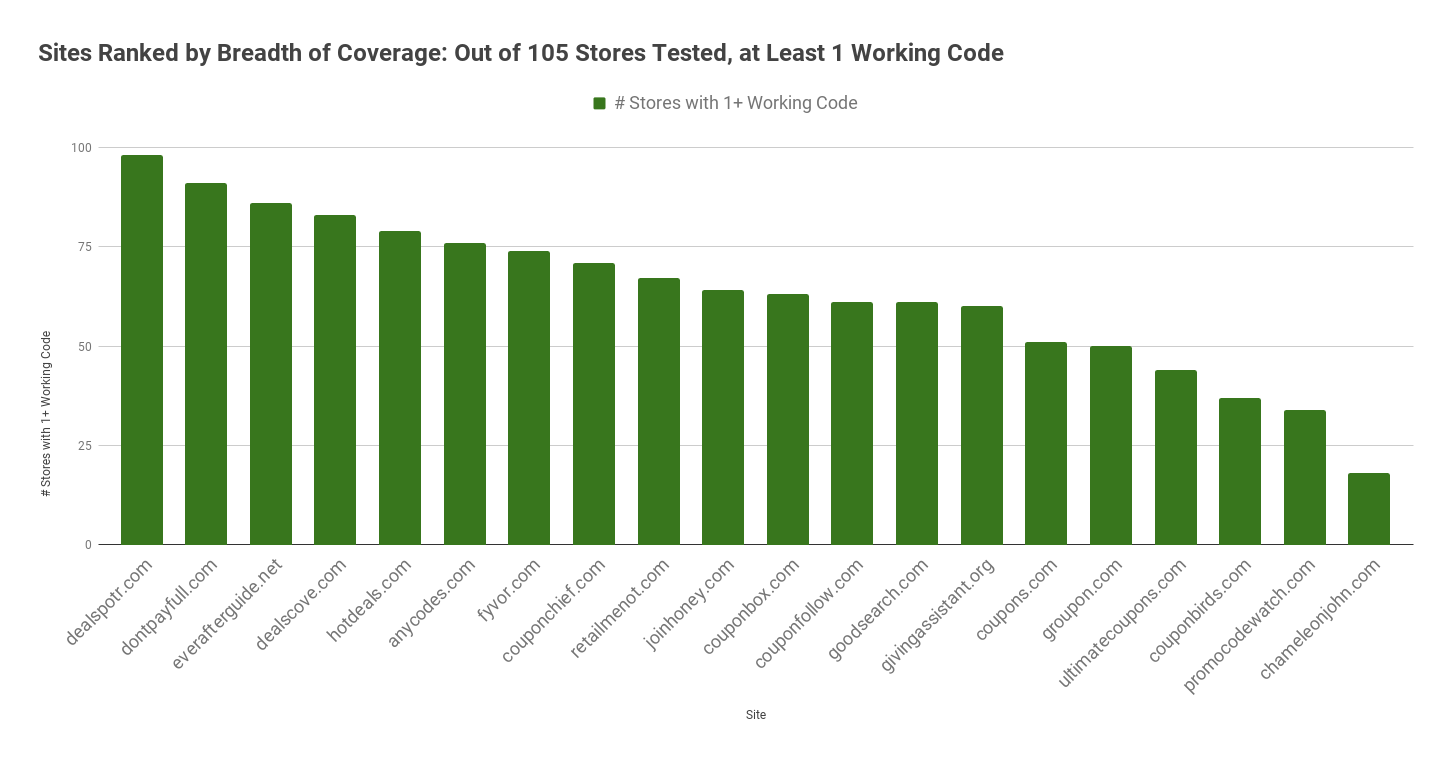 Dealspotr ranked first in breadth of store coverage, at 91.6% of stores in the test having 1+ working promo codes.
Of Tier 1 sites, RetailMeNot ranked second with 63% of stores showing 1+ working code.
If you include Tier 2 sites, DontPayFull ranked second in breadth of store coverage, with 85% of stores showing 1+ working code. This also came at an accuracy deficiency, with only 45% of their displayed codes offering a valid discount.
Dealspotr has 3.7x more working promo codes than any other coupon site
Below is a table summarizing all the key data from our test. In our test, we hand-verified 19.805 promo codes listed on 20 popular coupon websites. The codes were tested on 105 popular e-commerce stores, as ranked by SEMRush coupon-related search queries.
Site
# Working Codes Shown
# Invalid Codes Shown
% Codes Shown that Work (Accuracy)
% Stores Tested w/1+ Working Code (Coverage)
Tier 1: Sites with 60% or Greater Accuracy
Dealspotr
1,571
455
77.5%
91.6%
CouponBox
399
175
69.5%
58.9%
GoodSearch
387
180
68.3%
57.0%
RetailMeNot
342
110
75.7%
62.6%
Groupon
191
68
73.7%
46.7%
Coupons.com
181
27
87.0%
47.7%
Tier 2: Sites with Lower than 60% Accuracy
DontPayFull
979
1,189
45.2%
85.0%
EverAfterGuide
610
1,831
25.0
80.4%
CouponChief
451
622
42.0%
66.4%
HotDeals
422
663
38.9%
73.8%
DealsCove
410
1,459
21.9%
77.6%
Anycodes
395
582
40.4%
71.0%
Fyvor
372
549
40.4%
69.2%
Join Honey
341
578
37.1%
59.8%
GivingAssistant
268
1,615
14.2%
56.1%
CouponFollow
217
653
24.9%
57.0%
UltimateCoupons
175
792
18.1%
41.1%
CouponBirds
109
307
26.2%
34.6%
PromoCodeWatch
73
72
50.3%
31.8%
ChameleonJohn
30
34
46.9%
16.8%
If you compare Dealspotr with all other coupon sites in this study which achieved a minimum of 50% accuracy (Dealspotr scored 78%), Dealspotr has 3.7x more working coupon codes than any other competing website. We exclude sites which scored lower than 50% accuracy since these coupon sites offer poor overall usability and do not make for an apples-to-apples comparison.
Clearly, Dealspotr leads the industry in the sheer number of codes, the low incidence of expired codes, and the breadth of store coverage provided. In terms of store coverage, meaning which coupon site is likely to have at least one working code for any given store, DontPayFull, EverAfterGuide, HotDeals, DealsCove, and AnyCodes performed within -20 percentage points of Dealspotr. However all of these sites acheived this coverage at a severe penalty in accuracy, with some showing 80% invalid codes on their pages.
We believe that our crowdsourcing system enables us to tackle the big data requirements of maintaining a comprehensive and accurate database of coupon codes better than any other player in our industry. Notably, Dealspotr's ability to maintain a large volume of codes while also maintaining high accuracy by removing expired codes is a testament to the effectiveness of our technology.
We believe that if we expanded the test to include less popular stores, Dealspotr's performance advantage would increase even more dramatically. Our community posts and edits a massive number of deals per day (over 10,000 edits per day), which enables us to ensure extremely high coverage of deals across thousands of stores, far better than any other site in our industry.
Additionally, since Dealspotr launched its Marketplace influencer marketing platform, dozens of brands are starting to post exclusive coupon codes, only available on Dealspotr. This further increases our coverage advantage by making available codes that are completely unique to Dealspotr and cannot be found on other sites at all.
Detailed study findings and screenshots
Macy's
American Eagle
Sephora
Grubhub
Charlotte Russe
Newegg
Forever 21
Kohls
Old Navy